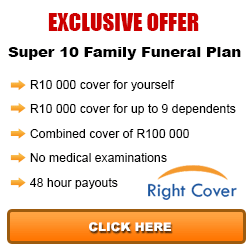 Losing a loved one can be a highly stressful time. Arranging a funeral shouldn't be. With the various funeral cover providers available in South Africa, individuals have access to a multitude of funeral insurance options.
Avbob is an industry leader and is renowned for providing quality funeral cover. The company has developed a reputation as one of South Africa's best-known funeral service providers. With more than 150 branches nationwide, this Mutual Society now has more than 1.3 million policyholders and insures over 3 million people.
Established in 1918, Avbob is renowned as Africa's largest Mutual Assurance Society, and provides a one-stop funeral insurance and burial service solution.
Services offered by Avbob Funeral Cover:
Choice of burial, cremation or graveside service
The day, time and venue for the service
The choice of coffin or casket
Preparation of the eulogy and more
Undertakers to assist with immediate funeral arrangements
Personal, professional consultation with family about funeral arrangements
Transfer of deceased
Preparation of the deceased
Grave equipment
Use of private family viewing facilities
Funeral pamphlets
Placement of funeral notice in local newspaper
R1000 cash upfront for initial expenses
A number of additional services can also be provided on request, such as:
Arrangement with the doctor to issue a death certificate
Registration of death
Fresh flowers
Family cars
After funeral catering
Grave or cremation fees and more
Funeral representatives can also assist with:
Day, time and venue for service
What does basic Avbob Funeral cover provide?
Avbob provides a range of services for the beneficiaries, to ensure that the funeral arrangement process is as smooth as possible.
Basic coffin or casket
Transfer of the deceased to the funeral home
Liaising with florists
Preparation of the deceased
Provision of grave equipment
Visit www.avbob.co.za